Christmas Stockings made for and donated to the Lethbridge Regional Hospital campaign 2018:
Stack of community quilts collected at the November 2018 LCQG meeting.  These will be distributed to various community organizations in Lethbridge:
December 2017: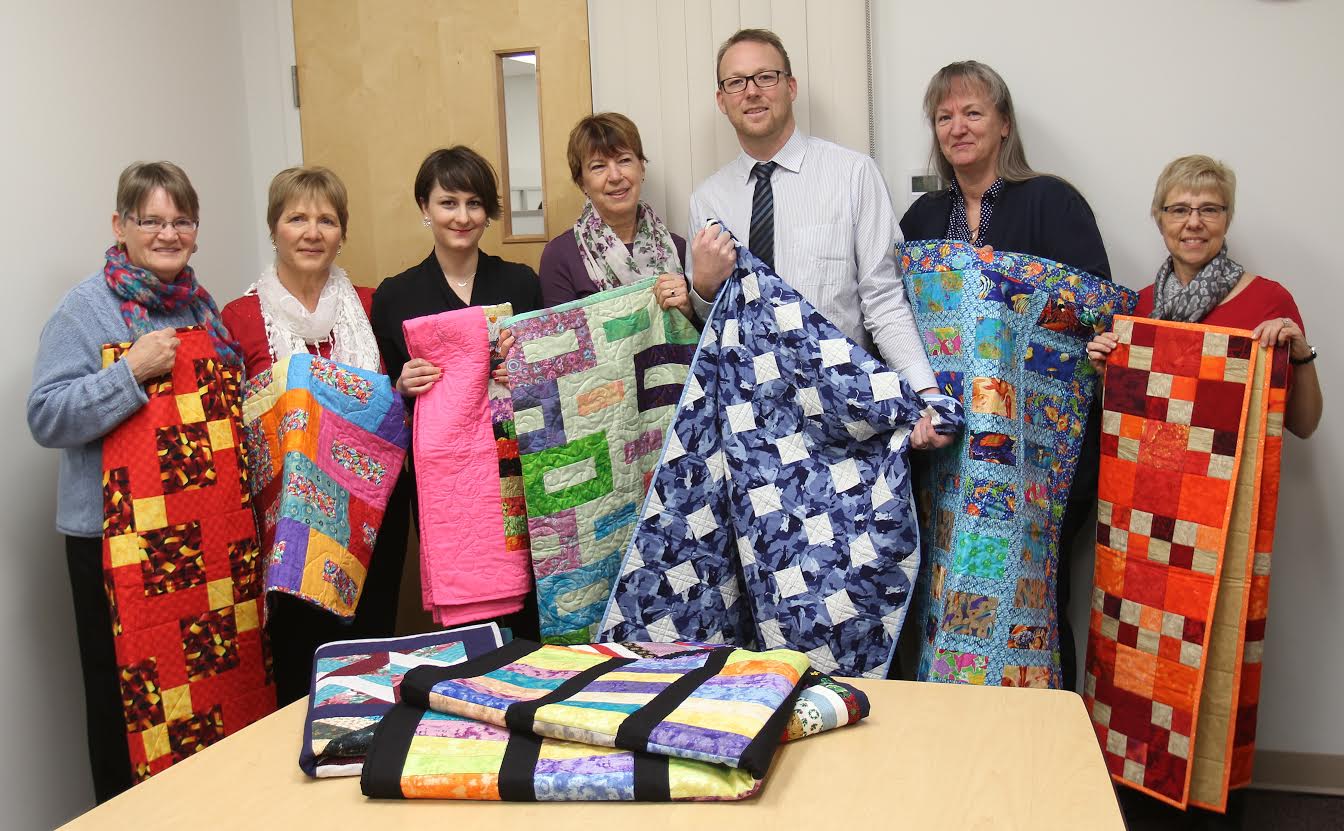 Guild Members pose with U of L Counselling Services with donated Community Quilts to help students in need.
These pictures were taken when Vi and Janet delivered quilts to the Community. On behalf of the Guild, they distributed 133 quilts to 10 organizations, and 174 doll quilts to the Salvation Army and Interfaith Food Bank.
***********************************************************
Community Quilt Patterns:
These two patterns were used in 2017 and 2018 for the Community Quilts:
Jelly Roll Spin and Falling Charms. PDF downloads available.
Average number of a stack of quilts handed in at the monthly meetings for distribution to the many organizations and requests we donate to:
About the Community Quilt Services:
The Community Services Committee coordinates the collection and distribution of quilts made by Guild Members that are donated for use in the Community.
The quilts are collected, catalogued and distributed to the facilities. Facilities we have donated to include:
St. Michael's Health Centre
Extendicare
Woods Home
YWCA Harbour House
RCMP
Lethbridge Regional Police Service Victim's Services
Cancer Clinic
and others chosen by the Committee and agreed upon by the Guild Executive Committee. If you are an organization in need please contact us and we will direct you to the Community Committee.
Beads of Courage:
We have recently learned about Beads of Courage and Guild members are invited to be involved in constructing fabric bags to hold the beads. You can visit Beads of Courage for more information, if you specifically need the Quilting bag info it is here (under Artists Donations and "Quilters"). Rae Perry is the director of Beads of Courage for Alberta and she has asked for a Guild member to be a contact that will be given bead bag labels and transport the bags to Calgary and Fay volunteered.
Note: You can enclose a small note in the bag that gives your name and the Lethbridge Centennial Quilters guild if you wish.