– Sue Nagy:    This is my kitty "Mr. Binks" looking out the window at the leaves falling (very coincidentally it happens to have snow on the ground after I made this wallhanging)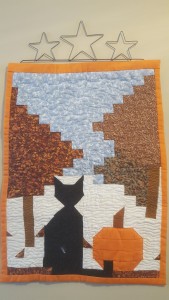 – Connie Chaplin:  This little cross stitch pattern expresses a sentiment with which I am in total agreement, especially when the thermometer is reading below zero!  The pattern is from a very, very old issue of For the Love of Cross Stitch.  I'm not even sure if that magazine is still in existence.  Hand stitching for me usually happens during the winter months when gardening and yard work are on hiatus, so this project was completed in the early spring of this pandemic.  I wasn't sure how to finish it, as framing seemed too formal (and too expensive).  I turned it into a small quilted wall hanging, (9 inches by 5.5 inches) which now graces the wall in my laundry room!
The centre of this quilt started as my Batik Group Round Robin for 2019.  My theme was the colour wheel and each member of our group contributed a strip or two of each colour.  I started with red.  Marion Jankunis did orange; Elaine Josey – yellow; Pjam Swen – green; Mauie Wills – blue and Teresa Petriw – violet.   I added multiple borders, backed it with minke and it went to its new home with my youngest grandson.  At first, I felt reluctant to turn this piece into a child's quilt since the green strip was the last contribution I had from Pjam.  On reflection, I remembered the loving way Pjam always talked about her grandchildren.  Somehow giving this to a youngster who will turn 2 next week felt like exactly what Pjam would have wanted.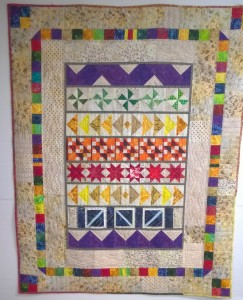 – Judy Barnett:  I took an on-line class from Susan Carlson on a different collage technique; Class is called a "Master Class with Susan Carlson". In this class you learn about color values, backgrounds, piecing, gluing and embellishments. It has been great learning something new. The spiral was the first, then the fish with blue background, the other fish was for my son's 50th birthday, then the turtle.  On Thursday she does a zoom meeting. At her last meeting she commented on my spiral; she told me that she liked it, Whoo!!
– Susan Caruso:  My quilt is "Berry Pie", a ProjectHouse 360 Quilt Pattern.  It was quilted by Marina Grant #403-634-7297.  I made this quilt with the intentions of giving it to someone but it turned out so nice that I decided that it was my turn to keep one of my quilts. It took me a long time to do this quilt, I would recommend this pattern for experienced quilters. I don't like doing a quilt twice so I wouldn't do it again.
– Liz Pinches:  Here is the Halloween wall quilt that I finished just a couple of hours ago! It hangs in my stairwell where anyone coming to my front door can see it.  It is made from a panel that I cut to make it fit my space and some strips from a jelly roll that I bought at the same time, on sale at Village Quilts on National Jelly Roll Day! It will hang for the next 8 days and then get changed for my Remembrance Day wall quilt.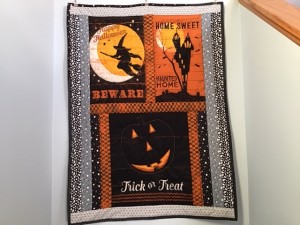 – Helen Raczuk:  I did several quick projects … just to feel that I had completed something!  My one and only fall project is this 12 x 12 pumpkin table quilt. It is appliquéd and went together quickly. Not sure where I found the pattern.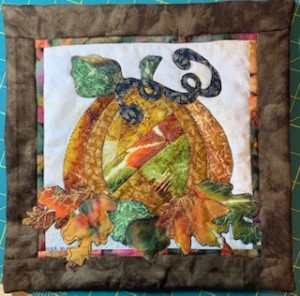 Iron caddy, to match my retreat bag.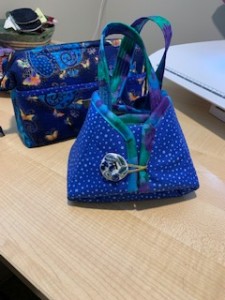 And a project bag for "on the road" stitching.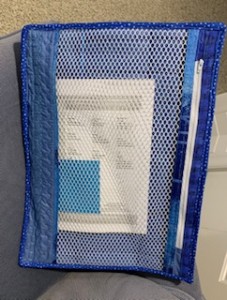 Finally finished a paper piecing project started in the early 80's as an exchange project with a friend of mine. Hers is still unfinished! I sewed the backing on, then turned it inside out rather than binding.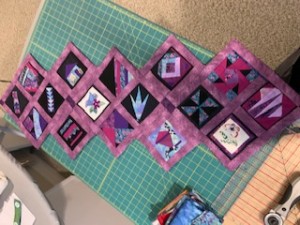 Another project with my friend.  This time we decided to do the same project.  It's the Starburst quilt, by Violet Craft.  This is pre- trimmed, it is now pieced, but awaiting sandwiching and quilting.  All those bias edges nearly drove me to drink! But it is, or will be done!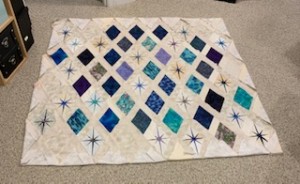 This is the Picnic Basket pattern by Annie. A challenge! But it is done and has been used several times.  Looks wonky here, but fills out nicely and holds a lot.  Has mesh pockets inside and pockets on the outside.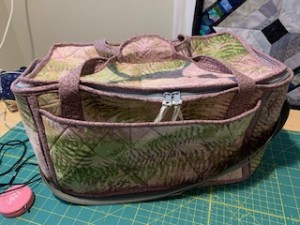 And of course, more little quick projects: napkins, bowl cozies, mats and tea towels, awaiting gifting opportunities!  These tea towels were fun because I learned a cool way to do "perfect" mitered corners.
– Audrey Christiansen:
First picture is of my Halloween quilt called Fab-Boo-Lous. The pattern was from Village Quilts  and because this project was from a couple of years ago they only had the pattern not the fabric. I went on the Internet and was lucky enough to find the panel needed plus the Halloween print for the outer border. I was able to use fabric from my stash to complete the quilt. It was a fun quest and I was very happy with the end result. Pieced & machine quilted by me.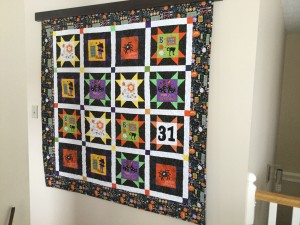 The following 2 pictures are of quilts I will be donating to Community Quilts:  Quilt 1 is a quilt called " Stepping Stones " by Donna Robertson of Fabric Cafe. This quilt only uses 3 yards of fabric for the top & binding and Donna's patterns are super easy to follow. It was a fun quilt to make. Pieced & machine quilted by me.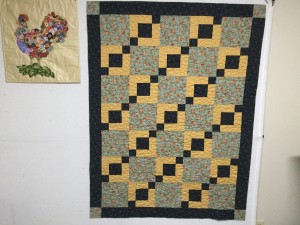 Quilt 2 is called "It's a Snap" by Donna Robertson and I used 3 yards of fabric for the top & binding. As with the first quilt, you choose 3 different fabrics of 1 yard each and it really was a snap to make. Pieced & machine quilted by me.
 – Phyllis McEwen:    My Halloween Quilt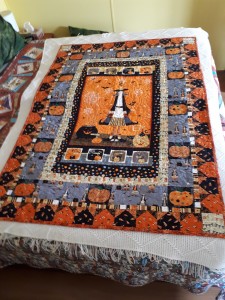 – Rose-Marie Christie:  Happy Hollow design, "Smell my feet, don't touch the shoes".
I did not like the center design, so I digitized and embroidered a sugar skull on the cauldron.
This is Kimberbell's "We whisk you a Merry Christmas" design.  I took a class with BJ Squarek last fall to learn embroidered appliqué. So glad I did. This was so much fun to make.  Materials used include Mylar, glitter sheets, buttons, flex foam, ricrac.  I have more Kimberbell projects waiting their turn.
This is a Laura Heine pattern. "Flora Vintage Trailer".  The flowers are thread painted.  I quilted around the dragonflies in the background fabric.  I shall not make another.  It hangs in my sewing room.  The dog's name is Daisy.
 – Ruth Atwood:  Here's what I have hanging now:
The large Star pattern is called Solitude in Cherie Ralston' book "Under the Stars" and it is an appropriate name for a quilt created while self-isolating! I had 400 HSTs measuring 1.75 inches square (from a quilt made in 2018 that had corners cut off 2.5 inch strips). Each large star used 48, so I ended up with eight – an awkward number for layout! I decided to use up a bunch of batik scraps and came up with this "puzzle" quilt. I quilted it in four sections – three vertical rows and one horizontal – and covered the join on the back with a fold of the backing. It worked okay, although the quilting does not need close scrutiny! I enjoyed the almost 120 hours it took!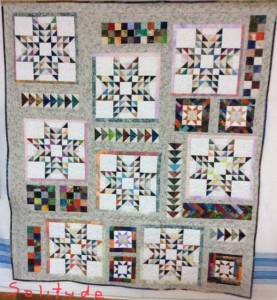 Flower Log Cabin. I didn't make a big enough difference in width of light and dark strips to achieve the circular look I wanted, but it is still pretty. About 42 by 52 inches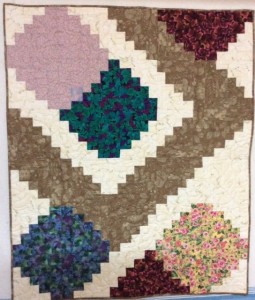 Working with larger scraps than I usually do, this sixteen patch block is made of 2.5 inch squares. I laid out the aqua res, then stacked them beside my machine to use as thread-catchers on other projects so they went together quickly.
– Kay Henke:
This is the "Raindrops" kit from Connecting Threads. The kit included all fabrics and easy to follow instructions to complete the top, and I purchased more of one of the fabrics to make the back.  I quilted it on my domestic machine with umbrellas inside the drops and stippling in-between.  I do not have a home for this one yet but someone might find it under their Christmas Tree!
– Wendy Benoit:  I also am missing the meetings and seeing the creative projects completed by the members.  When rooting through my storage containers, I found this adorable wall hanging complete with lots of backing and binding fabric. I had purchased
many moons ago at Village Quilts.   The quilt does have the spider webs that do glow in the dark so for quilting I just carried the web theme and did mainly spider webs.  For the purple area with circles, I  used my Swiss cheese ruler and did small circles.    Not as easy as I had hoped as the circles were small and I have lost my touch.  Not perfect but not readily visible.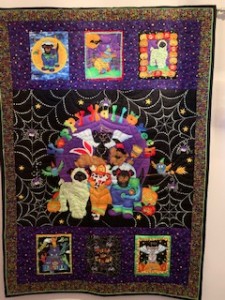 I found this pattern on Kreative Kiwi from New Zealand and the price was
right at $1.00 for several sizes and the coaster pattern was free.  Using my
Embroidery machine, the placemats were fun and easy.    They are reversible
when using matching thread in the bobbin.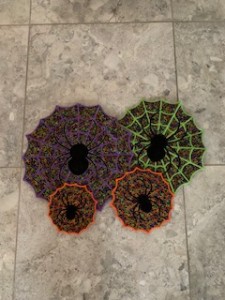 – Mary Cohen:  I have been working so I haven't really been quilting but I am sending you one for Halloween that I made years ago and is now appropriate for the season.  The other small quilt was a panel I bought from Joyce Furakawa at one of the last seat sales and so I quilted it and keep it in my sewing/quilting/designing studio.  I like to read the comedy in it about quilters!  Thanks to you for doing this, I so miss everyone!