Lynn Gibson:  I finally finished my first one block wonder. I learned that I should have used a fabric with more space between the designs. I may try another one some day. I really like the effect created using a panel such as the one Donna Kendal did.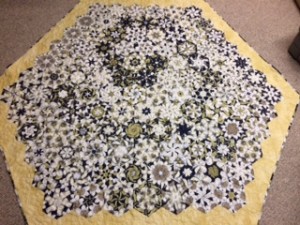 Sue Nagy:   I've kinda been obsessed with stars lately and have made a few lap quilts in my own design.  My kitty "Mr. Binks" and I share this latest one that matches in my living room perfectly with the new grey cotton boll print (found it at Little Red Quilt Shack in Fort MacLeod) and my cotton boll decor.    And I am one who is always looking to use up every bit of scraps from my stash!  The smallest stars are created from the left-over corners of the medium sized stars.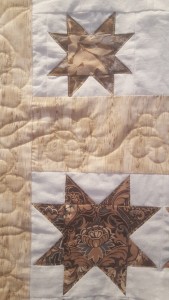 Connie Chaplin:   In June I signed up for an online Stitch Club from Alison Glass which was a 6-month club that featured a new lesson each month.  Although the focus of the classes was on learning the techniques, not necessarily on completing a project, I did complete a pillow done in running stitch and put a trimmed section in the back.  The other project was a couple panels of Sashiko stitching which I turned into a bag.
Karen Schilling:   I haven't only been making quilts during this Covid-19 isolation… here is Kewpie that I've made for myself – I've had the pattern, fabric etc for at least 15 years – one of those "sometime" projects. As a child, I loved my Kewpie doll dearly and now I have a replacement….she turned out beautifully…stands on her own, has jointed arms and legs and of course needed "Mary Jane" shoes to complete her outfit. I had a lot of fun making this doll and her clothes and so many wonderful memories while sewing. I'm just a kid at heart, love my dolls!
This quilt is from a magazine –  a paper piecing project that I've been planning to make since 2004, it is called "Full Beauty" by Liz Schwarz – "the grouping of four celebrates the magnificent diversity of beauty of all women".  I'm really pleased to have It finally hanging on my living room wall.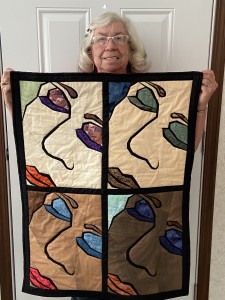 Audrey Christiansen:  First is a table runner designed by Karla Alexander and uses the Creative Grids Spider Web ruler. It was a fun project, pieced by me and quilted by Julia & Janet Farries.  Second picture is a Christmas Table Topper. I adapted the quilt pattern "Starstruck" to make 5 table toppers to give our girls for an early Christmas gift. The pattern uses a Jelly Roll plus background and border fabric.
Donna Kendall:  Here is my OBW pentagons.  Painstaking process.  Now I love it.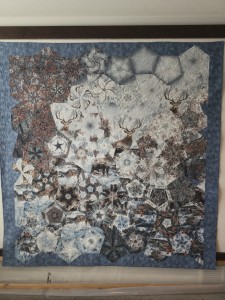 Mary Cohen:  These were really fun to do and I was only going to do 5 but I did a few more! What makes them special is that each one has a bit of fur from mom's fur coat which she bought when we were in Greece.  She is now 93 and at St Terese, has Alzheimer's and doesn't know any of us, so I thought I would make these to give to my family members.  Thanking Judy B for her thoughtfulness by providing things for us to read and do and this gnome pattern.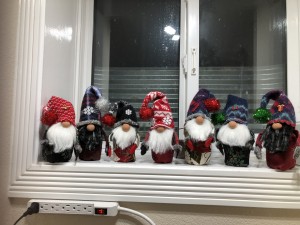 Darlene Patterson:  First is a photo of a number of projects I've completed since the Covid-19 outbreak.  Next is a Joan Statz applique  pattern – "Farmhouse", made for a friend who lives on a farm near Rocky Mountains.   Next is "Insomnia" – another applique project – took 5 years, not quilted yet, and then "Split Diamond" – a scrappy quilt made as a gift for some friends.
Dot Nixey:  The 5th Ave Handbag is semi structured with unique, high-end hardware.  In taupe and charcoal faux leather with light gold hardware   Roomy with lots of pockets inside. The lining is a rich black, brown and gold batik.
Simple Elegance Handbag:
Rose-Marie Christie:  Coneflowers by the Quilted Frog.  Found a pretty bumble bee broach to add dimension.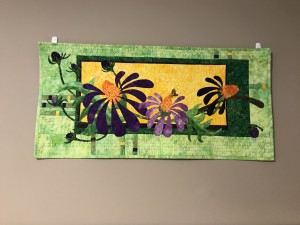 A Sulky Seasonal pattern.  I purchased this one as a kit.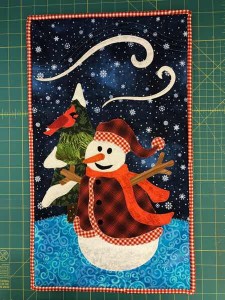 Ruth Atwood:  From the pattern "Zip Strip Lap Quilt" by Kim Schaefer in Cozy Modern Quilts.  This is the second time I've made this quilt and I modified it slightly by making the strips and rows a bit longer so it is almost Queen size. Started in June of 2019, and beautifully quilted by Kaye Borthwick. About 50 hours of my time.  I absolutely love the wide backing that I found for it too!
Lap quilt, from Brenda Henning's Strip Therapy #1, called Psycho; started at a retreat in 2017, it languished in my sewing room waiting for a decision on borders. Quilted by Kaye Borthwick. Finished Nov 14, 2020: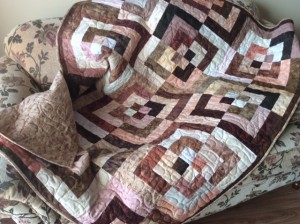 Teresa Petriw:  I made some Christmas Table Runners using strips of holiday fabric. They are made by the "quilt as you go method".  A quick and easy holiday gift that adds cheer to any room!
Wendy Bushell:  First are Christmas table runners, next made for a foster care child and lastly festive face masks for grandkids!

Dolores Schilling:  Mostly I've been busy working on customer quilts.  These are some of my own projects…destined for a great-niece who is due to arrive in February:
Sue Nagy:  My friend Kay Henke gave me the "Boxes & Bows" block pattern and I decided to make 5 of them and set them into a tree skirt.  It was a bit tricky figuring out the angles of the triangles in between each box because as they went around the skirt, they weren't the same width.  I like the machine quilting I did, some meandering but also some straight line, I am getting better at it: