Well here we are in 2021… Happy New Year everyone!
It was one year ago this month, that the first case of COVID-19 was diagnosed and reported in Canada, an asymptomatic airline passenger had returned from travel.  Within a few days, that person became sick, and was admitted to a Toronto area hospital.  This person passed it on to their spouse; both of them did recover.  But in the meantime, the contagion had been unknowingly passed on to others.  As of this date, 747,000 cases have been reported across Canada, and sadly over 19,000 have succumbed to it and passed on so far.  A far worse outcome than the seasonal flu which some years can cause about 3500 Canadians to die.  COVID-19 has been declared a worldwide pandemic and has created havoc ALL OVER the world.  As a quilt guild group, we have not met for nearly a year now, but many of us have retreated to our sewing rooms and merrily sewed along, not just quilts, but sewing projects of all kinds!
In an unprecedented effort, the world created and produced several vaccines against the COVID-19, and as of this posting, two of them have been approved by Health Canada and are beginning to be distributed.  Most of us in the seniors age grouping, should be able to get a vaccine by the end of June 2021.  With this in mind, our guild should be able to begin meeting again by September.
In the meantime, one can pop over to Facebook and join Judy Barnett's page called Covid Sanity with Judy.   Every week she posts some fun stories, patterns, and recipes.  You may also post your show and shares there.
Those not using Facebook, can continue to submit show & shares to me at sgn@telus.net
So when life gives you scraps, make quilts!
Karen Schilling – just a kid at heart… been busy during Covid alone time using "the stash"…. this fabric  was moved several times over 20 years, and lastly to Alberta 5 years ago. How amazing is that?  Here are my Raggedy Ann and Raggedy Andy dolls, the large are 25″, the small about 8" – all made from panels.  Wonderful fun to make, good memories of childhood….and an excuse now to just play and enjoy the smiles from quiet friends!  Even looping yards and yards of wool for the hair was a fun part of this project.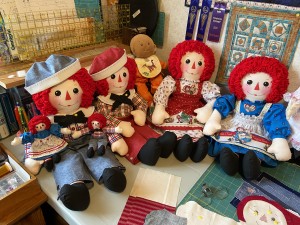 .
Sue Nagy – I also got out my many fabric stashes and began to organize scraps… cut them into 2-1/2″ x 3-1/2″ rectangles and arranged them into this layout: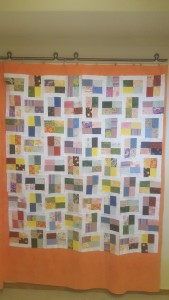 Kay Henke – Odario the Zebra (he got his name from CBC radio New Year's Eve program hosted by Odario Williams.  On New Year's Eve, Steven and I were trying to complete a 2k piece puzzle, having snacky food and listening to the CBC listen app. My eyes started crossing working on all those tiny puzzle pieces so I began working on the Zebra applique, my first ever applique project.  As the applique progressed, it started looking pretty good so we decided to name him after the radio host.  I later added borders, machine quilted and put on the binding)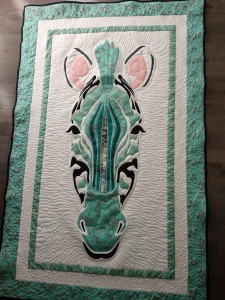 Ruth Atwood – Here are four Care Quilts I completed in December. These are destined for children taken into care by Social Services.
Here are a couple of Christmas table runners I got done in December – one a gift and one for me. I should note the COVID Christmas runner was the project from hell!  I started with four colours in the border, didn't like the effect so swapped out one light colour. Still didn't like it so I removed the other light color and went with green, red and gold. Still didn't like it, so I swapped out the feature fabric in the middle. My unstitching skills are top notch now!
Here are two projects I've done in 2021. The Crooked Heart wall hanging is not completed yet – the binding is about half sewn on but I'll have it on the wall for Valentine's Day! The small heart hanging is on the front door which looked too stark after I took the Christmas wreath down.
Janet Bice – New Member:   My neighbour had her first child this month (January) and decorated her baby's  room in a "woodland" theme.  I made this quilt for her baby and although it's just a panel, I designed it and free motion quilted it myself.  I did a little thread painting on the muzzles too. The backing is Fireside which is a dream to sew with.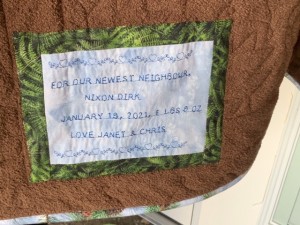 Ruth Atwood –
"Ocean Waves" was started at our last retreat, Fall of 2019. Beautifully quilted with a wave pattern by Kaye Borthwick. The border is from a fabric piece I won in one of our meeting door prizes and I was delighted to find the backing fabric at Marshall's!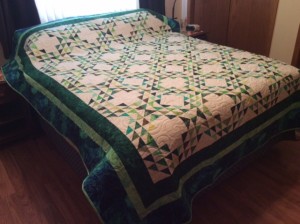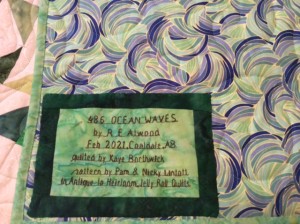 Sue Nagy – Every quilt has a story… the appliqued butterflies are from fabrics and cut out over 45 years ago!  I was wanting to use up the remainder of a bolt of the teal green fabric and so this is how I came to be motivated to finish it.   I used the quilt-as-you-go method of a strip at a time and machine stitched a butterfly pattern on to the background white fabric.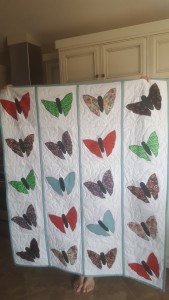 Ruth Atwood – I spent lockdown time sewing my five inch scraps into triangle squares. This is one of the two quilts I made from them. I also used a bunch of those 16 patch thread catchers I made last year. For the backing I used up a bunch of flannel scraps from my stash; for children taken into care by social services.
The CQA project 52 blocks in 52 weeks kept me entertained for a month in 2020 and here are two quilts I made from those blocks. These quilts also are for children taken into care by social services.
Several years ago I made a sample block that didn't get used. Wonder of wonders – I had enough of the fabrics left to make another one! So I filled it in with scraps to make a new table runner (cat blanket).
Cats and Geese is my latest finished project, beautifully quilted by Kaye Borthwick. I'm making good use of all those string-pieced fabrics I made last year!